So, the world didn't end after all and 2013 has kicked off with damp start – but what a year this promises to be for EIA!
January – Give It Up 4 EIA
It's already been hard work but we are persevering with our New Year resolutions and some of them promise to be life-changing experiences.
I, for one, am discovering the joys of making my own bread and an underground network of people eschewing excess packaging. Who'd have thought that in all of London there was only one shop that lets you fill your own containers with food and soap?
If you're giving something up as a New Year resolution, sign up and join Team EIA as we suffer for the very best of causes! You can find full details here.
March – Tiger spectacular
Following the success of the Save Wild Tigers gala dinner a couple of years ago, we're going even bigger this March and taking over London's St Pancras rail station for three weeks to highlight the plight of the ever-diminishing populations of tigers in the wild.
There will be lots of events, a screening of Life of Pi, celebrity book readings and signings, a fun packed kids' themed weekend and a spectacular celebrity-filled gala dinner to climax.
All proceeds will be shared between EIA and Born Free to aid our vital front line work to keep tigers from extinction.
April – BBC Radio 4 appeal
All you Radio 4 lovers out there may be interested to know that EIA will be hosting the Sunday appeal on April 7. A mystery celebrity will be telling the world about the amazing work EIA does and all we that hope to achieve in the next year.
Be sure to listen and tell your friends – it's a great opportunity for us to reach a whole new audience and raise essential funds too.
Summer – Film screenings
Look out for special screenings of EIA films during the summer. I know it's a long way off but I'm already dreaming of open air cinema, sitting on the grass under the stars.
New faces!
EIA is pleased to welcome aboard two new members of staff as we kick off another year of campaigning and activities, so please join us in wishing a warm welcome to Amy Butler, right, our new Trusts, Foundations and Statutory Fundraising Officer, and Bertie Bassett, who joins us as Project Finance Officer.
And finally …
Our sad but sincere thanks to Cynthia Howles, a long-term supporter of EIA who died in 2011. Cynthia started our year with an amazing gift unexpectedly leaving EIA a legacy of £14,000. We are touched and amazed by such generosity.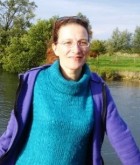 Janet Fereday
Head of Fundraising